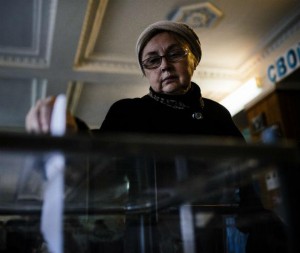 The people of Ukraine went to the polls on Oct. 26 and voted overwhelmingly to continue the process launched by the Maidan movement. The results could fairly be interpreted as an overwhelming endorsement of economic reform and integration with the European Union, and a call to end corruption and resist Russian territorial encroachment and separatist violence. Rising above the campaign noise, the rallying cry of "Slava Ukraina" or "Glory to Ukraine" could clearly be heard in all parts of the country.
On election day I was in Sloviansk in Donetsk oblast, serving as an election observer with the International Republican Institute (IRI). Sloviansk is a city of over 100,000 mostly Russian-speaking people that was recaptured by the Ukrainian army in July from pro-Russian separatists. Moscow often points to the city as "evidence" that Ukrainians actually want Putin to come and restore "Russian greatness."
What I saw in Sloviansk was a much different picture than the one depicted by Russian propaganda, or even on the daily news. Sloviansk also contrasts with this past Sunday's illegitimate elections conducted by the militant separatists in the Russian-occupied areas of Donetsk oblast. My conversations with many voters revealed strong, near-universal opposition to the Russian separatists and Russian military intervention.
This sentiment was not a surprise to me or to the regional experts at IRI. An IRI poll conducted in eastern Ukraine a few weeks before the elections showed majority support for a united Ukraine and rejection of Russian military intervention and separatist pro-Russian militancy. These numbers had been trending upward in similar IRI polls over the previous six months.
On election day, turnout in the open election districts in Donetsk oblast and Sloviansk was actually higher than in open election districts in the presidential election in May. And while the Opposition Bloc (the old Yanukovich Party of Regions) made a decent showing in the districts of Donetsk and Luhansk where voting took place, this did not indicate support for militant separatism. Rather, it more accurately reflected a desire for the familiar ways of the past, rather than support for an independent People's Republic of Donetsk. The Opposition Bloc vote was actually much weaker — by half — in these elections in Donetsk oblast, and in Sloviansk specifically, than the vote in 2012 for the Party of Regions. Moreover, the pro-Ukraine unity parties collectively out-polled the Opposition Bloc in Donetsk oblast and Sloviansk.
One of the striking aspects about the single mandate portion of the ballot in Sloviansk was the number of new faces running for office. Also notable: the many young people serving as party observers and on precinct election commissions. In a revealing conversation, one woman told me she was inspired to become an election observer for the Opposition Bloc after reading about a woman who, after being released by Russia-backed separatists who captured and tortured her, ran for office in Donetsk oblast.
In fact, in Sloviansk there is no broad support for Russian military intervention. In this city at least, and I believe in other cities open for voting in the war-torn oblasts of Donetsk and Luhansk, eastern Ukraine has said "no" to Putin and his proxies.
Yet incredibly, a few official voices have resisted coming to the aid of Ukraine. When Ukrainian President Petro Poroshenko visited Washington, D.C., in early October, he pleaded with Congress and the Obama administration for assistance in repelling Russia's relentless assault against Ukraine's sovereignty on land and over the internet. The good news is that there is strong bipartisan support within Congress for providing defensive military assistance to Ukraine — because we must act. U.S. inaction risks locking in an enclave of Russian influence in eastern Ukraine, resulting in a "frozen conflict." As time goes on, Russian separatism will be harder to dislodge and certainly will not stop. Mariupol, which lies on the Sea of Azov and could provide Russia with a land bridge to Crimea, may be the next target.
As someone who watched Ukrainians speak in favor of democracy, I hope that Congress passes the Ukraine Freedom Support Act and that President Obama quickly signs it. With the prospect of Republican leadership in the Senate, there may be an opportunity to do just that.
Originally by Olin Wethington, Source: Nov 3, 2014, Foreign Policy